Information and data are at the core of any organisation, but with that data comes responsibilities to protect the information and prevent data privacy breaches, as well as opportunities to maximise the value of data and improve organisational performance.
With a robust information governance program, your organisation knows:
The data that exists and where it exists;
How the information is managed and made accessible;
How data is secured and the data risks;
The information that needs to be retained;
Which information provides business value.
In order to govern information and both the risks and opportunities that arise, it requires all areas currently responsible for managing information to work together toward achieving the overarching strategic information governance objectives and priorities. This is illustrated in the diagram below: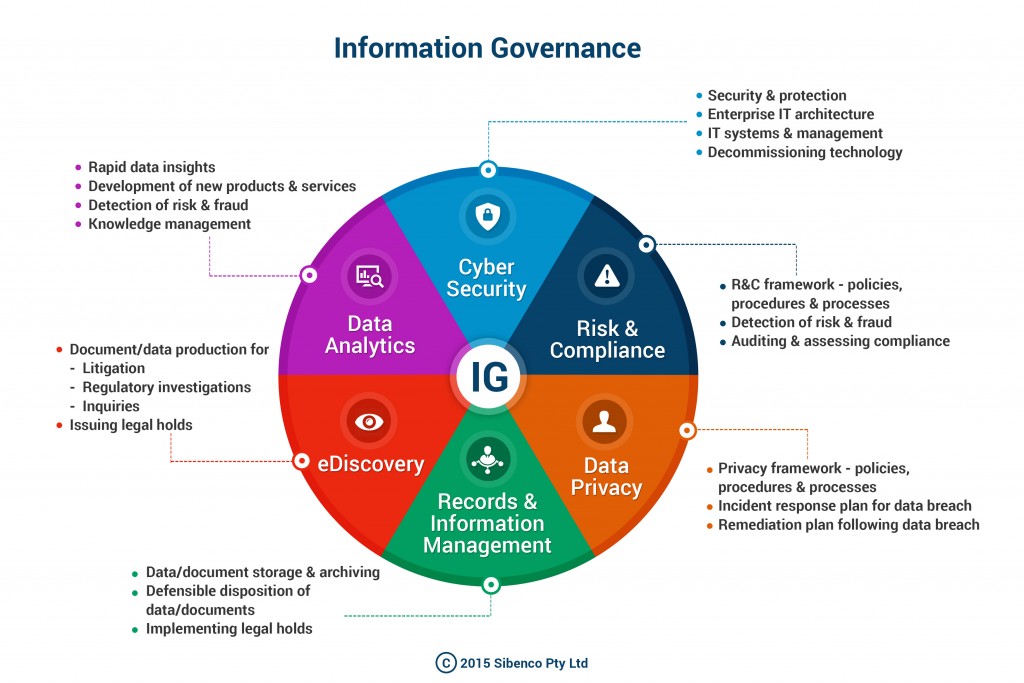 Solutions for Your Organisation
Sibenco Legal & Advisory offers holistic solutions that ensure proper governance of your information. Services include:
Conducting an information maturity assessment.
Developing an information governance strategy that covers policies, procedures, processes and guidelines for use, and aligns information management with business objectives.
Identifying opportunities for valuable data insight.
Information and records retention requirements.
Privacy data and risk management.
Crisis response to data privacy breaches and/or non-compliance.
Publications:
Big data, privacy and cyber security breaches – why information governance is critical
Why information governance needs top-down leadership
Information Governance Checklist
Privacy and data breaches – how information governance minimises the risk